Free Agency ADP Market Movers Overnight Wednesday 3/13
We're taking a quick look at player draft value based on the free agent signings and landing spots. Many of the players signed have seen significant increases in draft value.
Our current Draft.com ADP data uses a 5 day window to calculate ADP (FOUND HERE). But with sudden change in values from events such as free agency (and trades), you need to look at a smaller window of time.
Therefore, we examined the Draft.com data from 12 team drafts that happened late Tuesday night and early Wednesday morning. Here's what we found: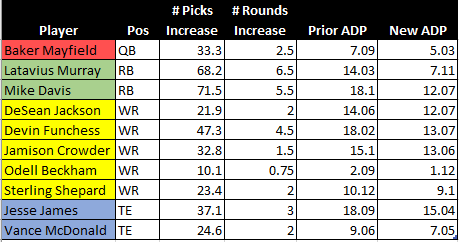 Odell Beckham – Odell had an ADP of 2.09 in 12 team drafts before the trade. After the trade, he's now being drafted in the first round again, with an ADP of 1.12. In a Live FFPC Draft, Tuesday night, he went at 1.06 overall. We should also mention that the other Cleveland pass catchers (Njoku, Landry, Higgins, Callaway) all saw about a half to a full round decrease in ADP.
Baker Mayfield – Baker saw a 2.5 round jump in ADP, moving from 7.09 up to 5.03. This puts him in QB3/QB4 territory behind Mahomes and Luck, and he's neck and neck with Aaron Rodgers.
Latavius Murray – Murray found a great new home in New Orleans, and drafters responded by bumping him up nearly 7 rounds. Before the signing he was being drafted at the 14.03, but in drafts overnight, he was being plucked around 7.11. In the Live FFPC Draft, he went off at a more reasonable draft spot of 11.09, but that tight end premium format will push non TE position players down a bit.
Mike Davis – Prior to his signing in Chicago, Davis had an ADP in Draft.com drafts of 18.1, going undrafted as well in many drafts. We're now seeing him go off the board at 12.07.
DeSean Jackson – Jackson saw a couple round increase, going from 14.06 up to 12.07.
Devin Funchess – The new tight end for the Colts (just kidding) rose a whopping 4.5 rounds from an 18.02 ADP up to 13.07. It's all about opportunity, and the Colts offense will provide that.
Jamison Crowder – Crowder rose 1.5 rounds from 15.01 to 13.06. It's still a crowded receiving corps for the Jets in our opinion.
Sterling Shepard – With Beckham gone, Shephard is now the #1 wideout for the Giants. His draft stock rose a couple of rounds, going from 10.12 up to 9.1. As for Evan Engram, we believe Engram will move towards the top of that 2nd tier of tight ends that are currently bunched together (Henry/Engram/Ebron/Njoku/Howard) as demonstrated in the Live FFPC Draft.
Jesse James – James was going undrafted or in the 18th round previously. Now with the Lions, he's going at 15.04 .
Vance McDonald – With Antonio Brown gone, and Jesse James in Detroit, McDonald is being taken a couple of rounds earlier that his prior 9.06 ADP. Now he's going at 7.05.